Click photo's to enlarge to High Quality
Press Release:
NICOLA ROBERTS TURNED INTO LIVING CANVAS
- Star transformed into vision of blue to highlight 2013 Colour of the Year -
Girls Aloud star, colour ambassador and style mentor, Nicola Roberts, has brought new meaning to 'January Blues' by being transformed
into a canvas of Indigo Night to announce 2013′s Colour of the Year
- as predicted by a global panel of experts from leading paint brand, Dulux.
Captured in a series of mono-chromatic images, which showcase the singer as she has never been before,
Nicola's signature porcelain skin and flame red hair contrast boldly with a custom set,
styling and make-up compilation which are all entirely Indigo. Achieved by a production team of 10 and a 12-hour shoot,
almost every inch of the star's body features air-brush make-up application through costume lace to create a unique body art effect.
The specific colour, Indigo Night, was predicted following extensive research by an 18-strong panel of global colour and trend experts
who specialise in different areas of colour use.
Collectively the team scours the globe, exploring a broad range of different cultures and industries including interiors,
fashion, beauty, design and even social and economic influences.
The result is an annual trend forecast known as ColourFutures, which depicts five key trends for the year ahead and one true Colour of the Year,
competing with the world's leading trend authorities.
Louise Smith, Dulux Senior Global Colour Designer, comments:
"We're currently living in turbulent times and this is having an effect on the colours we want to wrap ourselves and our homes in.
Blue is a key fashion colour for 2013 and is set to be a wardrobe and interior favourite throughout the year. Indigo adds a surprising,
elegant strength and shows you are quietly confident with colour,
which is why we felt Nicola would be the perfect ambassador for Indigo Night; an advocate of being bold with her natural colour
and champion of colour in her everyday life."
Popstar Nicola, who has recently announced a new tour and released a UK top 10 album and single with Girls Aloud,
has championed colour throughout her career.
Always seen sporting vibrant fashion, with colour also playing a major part in the Girls Aloud brand,
Nicola even created her own make-up range, Dainty Doll, which is tailored to those with pale complexions – a signature of the star's look.
To celebrate the announcement of Indigo Night as the Colour of the Year, Dulux is offering a limited supply of free testers,
which can be ordered online throughhttp://www.dulux.co.uk/colouroftheyear.
Runcorn Girls Aloud star Nicola Roberts opens mental health facility at Alder Hey
GIRLS Aloud star Nicola Roberts officially opened Alder Hey Hospital's new mental health unit.
The Runcorn singer visited the facility, Alder Park, where she met patients, families and staff.
Nicola spent time learning about the unit from patients and their relatives.
She then officially opened Alder Park by unveiling a special picture, which was created by patient Jacob Scott.
Nicola said: "I was delighted to open the new Dewi Jones Unit in Alder Park.
"The patients told me how excited they were to have a new unit right next to the beach.
"Jacob's picture for the opening was amazing and I was honoured the patients asked me to open it for them. It was lovely to meet them and their families."
Alder Hey bought the facility in Waterloo as the old site at the hospital in West Derby became unfit for purpose.
It offers more therapeutic and recreational space and is close to a beach and park for outdoor activities.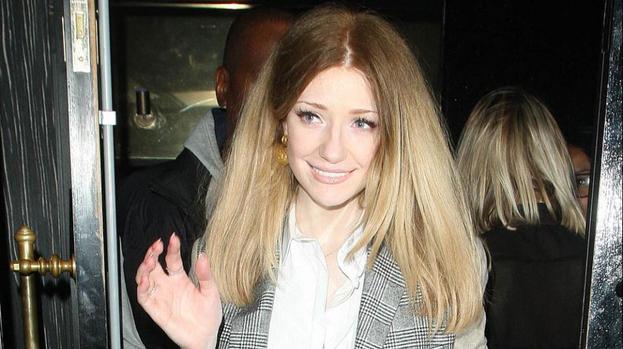 Nicola Roberts used to love writing poetry.
The Girls Aloud singer would regularly write her feelings down as a teenager in the form of short angst-ridden verse and she misses the therapeutic form of expression because it's nice to feel "confused" sometimes.
Nicola posted a series of tweets, musing: "I was just thinking i used to write so many little poems when I was younger about how I felt and stuff. Like hundreds of little paragraphs.
"And I think I've worked out that i did it because your head cant handle the feeling so you write it down?
"Then we grow up. I miss my little poems. Something nice about feeling confused. (sic)"
The 'Biology' singer has been setting her poems to music of late by dabbling in songwriting, including penning tracks on her own solo album and working with 'X Factor' winners Little Mix on their new album 'DNA'.
The stylish star has reunited with her Girls Aloud bandmates – Cheryl Cole, Kimberley Walsh, Nadine Coyle and Sarah Harding – after a three-year hiatus to celebrate their 10-year anniversary and the group are set to make a special announcement about their reunion on October 19.
Little Mix Work With Nicola Roberts On Debut LP
Little Mix have reportedly worked with Nicola Roberts on their debut album, DNA.
According to The Sun, The X Factor group co-wrote new tune Going Nowhere with the Girls Aloud singer.
It is thought that the song features rap and beat-boxing, with the tabloid adding that the Wings band and Roberts worked together to complete the track in the studio.
Source MTV UK
Nicola Roberts was at the Wireless Music Festival in London yesterday. From a tweet she wrote I assume she may have been filming something for her up and coming tv show 'Styled To Rock'.
Perez Hilton (famous blogger) bumped into her back stage and took put this on Twitter:
Team Ginge!! Me + @NicolaRoberts! Makes me feel something kinda ohhhh! ‪#London‬ ‪#Wireless
Click image to enlarge
To check out more photos from the event have a look at our gallery:
A while ago we heard that Nicola is working on a fashion show for Sky Living with Rihanna and Henry Holland. They have finally announced that the programme will be called 'Styled to Rock' Here is the press release:
Stylist Lysa Cooper completes line-up on our new fashion show.

Sky Living proudly confirms the final co-host who will complete the trio of mentors in Styled To Rock, the ambitious and much-anticipated new fashion series, executive-produced by style icon Rihanna.

With the panel of mentors personally hand-picked by Rihanna herself, Lysa Cooper has styled some of the superstar's most striking and most talked about outfits and has worked closely with her for numerous years.

Lysa joins fashion designer Henry Holland and Girls Aloud's Nicola Roberts, who created her own Dainty Doll make-up range, to co-host Styled To Rock, the new fashion project premiering this Summer exclusively on Sky Living.

Styled To Rock will celebrate the extraordinary talent and creativity in the British fashion scene, and search for the next generation of raw, undiscovered fashion designers. Over ten weeks twelve unknown designers personally selected by Rihanna, will be challenged by the mentors to create outfits for a string of A-list music artists to wear for a variety of occasions, including stage, shoots, high-profile events and more.

The show will ultimately recognise the increasing influence popstars have on mainstream fashion trends and provide an enviable springboard for the aspiring designer's future fashion career.

Sky customers will be able to enjoy the series exclusively on Sky Living HD later this summer.
Here is the official website for the show http://skyliving.sky.com/top-shows/styled-to-rock and the twitter is https://twitter.com/StyledToRock
(Info taken from Girls Aloud Media)
Thanks to Girls Aloud Media we have some pictures of Nicola and Kimberley at the pool in Las Vegas. Unfortunately I think they were taken without permission so I was hesitant to post them but here they are:
New images added to the Gallery:
Nicola at The Launch Of The Lion Pop-Up Restaurant, Brompton Club 26.4.12
Is that really you, Nicola? Miss Roberts is unrecognisable in her Eighties-inspired outfit
Fashion always comes full circle and crop tops and blazers and neon colours have been seen on many a celebrity so far this year.
But maybe Nicola Roberts has taken the Eighties-inspired look just a little too far.
So much so that the pop star was almost unrecognisable as she arrived for meetings with her manager yesterday.
It was acceptable in the 80s: Nicola Roberts is unrecognisable as she steps out in a bright blazer, stone washed leggings and big hair
Nicola, 26, was snapped arriving at the offices in stone-washed grey leggings, a long vest top and cropped red blazer and lace-up flat shoes.
She teamed the outfit with a small handbag and huge gold earrings, her two tone hair piled up into a bun on her head.
And it was only when she pulled down her Ray Ban style glasses that it became clear it was her because from a distance it was hard to make out that it was the Girls Aloud star.
Ah, it is you! Nicola was instantly recognisable when she pulled down her dark glasses to peer over the top
A few days ago she was seen at Heathrow Airport in London with a huge trolley of luggage as she jetted into the UK from a trip to Dubai.
But it was boyfriend Charlie Fennell who was left pushing the trolley which was laden down with suitcases as they made their way through arrivals.
Nicola has been busy with solo projects after releasing her debut album and make-up range while Girls Aloud have a hiatus from the charts.
But earlier this month, member Nadine Coyle, who is now based in Los Angeles, said the time is right for the girls to unite and told the Sunday Mirror: 'It's time to come back. At the end of the year it would have been ten years and it feels like the right time to regroup.'
And Kimberley Walsh also spoke about the band coming back together on the Alan Titmarsh Show at the end of last year.
She said: 'We are definitely talking about plans for next year because it's our 10-year anniversary so we don't know exactly what it's going to be.'
Miss Walsh is currently starring as Princess Fiona in Shrek: The Musical in London's West End.
Last night she was snapped leaving the Theatre Royal with a big beaming grin on her face and a very see-through top.
That's a lot of luggage, Nicola Roberts!
So, Nicola Roberts doesn't travel light. The Girl Aloud (and MyDaily favourite) was snapped arriving at Heathrow Airport this afternoon with boyfriend Charlie Fennell, and lots and lots of luggage…
The pair have just returned from enjoying a trip to Dubai (where we hope they went for at least a month), with Nicola looking relaxed and happy in neon zig-zag jeans, platform sandals and a comfy jumper – plus sunnies, statement necklace and tiger print Mulberry bag.
Nice jet set style, Nic.
"Touch down. Freckles is back," she Tweeted from the airport.
While we support a girl's right to carry as many bags as she so wishes, we can't help but wonder what on earth she has in there. We don't own enough clothes to fit in that many suitcases.
Unless of course they were all Charlie's…
« Newer Posts
—
Older Posts »