Nicola posted a picture of herself yesterday out and about, having fun in the sun. Here is her tweet:
Daisy chains in the park
Nicola tweeted about a trip she made last week to visit a charity she supports- Barnardo's
Here are her tweets and picture:
I went to visit one of @barnardos many children's charity services in Walthamstow last week. I think my favourite visit so far..

I met some amazing young people and care workers.

The work Barnardo's does is essential to young people in care.. Visiting their services you see the support network they give is invaluable.

Offering what you imagine is a given by social care but isn't.. Can't wait to go back <3 x
Nicola attended 'amFAR's 20th Annual Cinema Against AIDS Event' at the Cannes Film Festival yesterday in France.
I have added some images to our Gallery from the event:
Nicola and Kimberley tweeted yesterday about going to see P!nk in concert at the O2 in London.
A picture was also tweeted showing the pair of them and Cheryl having a good time. I can only assume this was before or after the concert:
……
I have also updated the gallery with the latest twitter pictures posted by Nicola:
Nicola was at London Fashion Week yesterday. She had photos taken at her friend Henry Hollands show then went to Rihanna's fashion show.
Here is an interview with Nicola at the Henry Holland show:
I've also added some pictures from the event:
Click photo's to enlarge to High Quality
Press Release:
NICOLA ROBERTS TURNED INTO LIVING CANVAS
- Star transformed into vision of blue to highlight 2013 Colour of the Year -
Girls Aloud star, colour ambassador and style mentor, Nicola Roberts, has brought new meaning to 'January Blues' by being transformed
into a canvas of Indigo Night to announce 2013′s Colour of the Year
- as predicted by a global panel of experts from leading paint brand, Dulux.
Captured in a series of mono-chromatic images, which showcase the singer as she has never been before,
Nicola's signature porcelain skin and flame red hair contrast boldly with a custom set,
styling and make-up compilation which are all entirely Indigo. Achieved by a production team of 10 and a 12-hour shoot,
almost every inch of the star's body features air-brush make-up application through costume lace to create a unique body art effect.
The specific colour, Indigo Night, was predicted following extensive research by an 18-strong panel of global colour and trend experts
who specialise in different areas of colour use.
Collectively the team scours the globe, exploring a broad range of different cultures and industries including interiors,
fashion, beauty, design and even social and economic influences.
The result is an annual trend forecast known as ColourFutures, which depicts five key trends for the year ahead and one true Colour of the Year,
competing with the world's leading trend authorities.
Louise Smith, Dulux Senior Global Colour Designer, comments:
"We're currently living in turbulent times and this is having an effect on the colours we want to wrap ourselves and our homes in.
Blue is a key fashion colour for 2013 and is set to be a wardrobe and interior favourite throughout the year. Indigo adds a surprising,
elegant strength and shows you are quietly confident with colour,
which is why we felt Nicola would be the perfect ambassador for Indigo Night; an advocate of being bold with her natural colour
and champion of colour in her everyday life."
Popstar Nicola, who has recently announced a new tour and released a UK top 10 album and single with Girls Aloud,
has championed colour throughout her career.
Always seen sporting vibrant fashion, with colour also playing a major part in the Girls Aloud brand,
Nicola even created her own make-up range, Dainty Doll, which is tailored to those with pale complexions – a signature of the star's look.
To celebrate the announcement of Indigo Night as the Colour of the Year, Dulux is offering a limited supply of free testers,
which can be ordered online throughhttp://www.dulux.co.uk/colouroftheyear.
Runcorn Girls Aloud star Nicola Roberts opens mental health facility at Alder Hey
GIRLS Aloud star Nicola Roberts officially opened Alder Hey Hospital's new mental health unit.
The Runcorn singer visited the facility, Alder Park, where she met patients, families and staff.
Nicola spent time learning about the unit from patients and their relatives.
She then officially opened Alder Park by unveiling a special picture, which was created by patient Jacob Scott.
Nicola said: "I was delighted to open the new Dewi Jones Unit in Alder Park.
"The patients told me how excited they were to have a new unit right next to the beach.
"Jacob's picture for the opening was amazing and I was honoured the patients asked me to open it for them. It was lovely to meet them and their families."
Alder Hey bought the facility in Waterloo as the old site at the hospital in West Derby became unfit for purpose.
It offers more therapeutic and recreational space and is close to a beach and park for outdoor activities.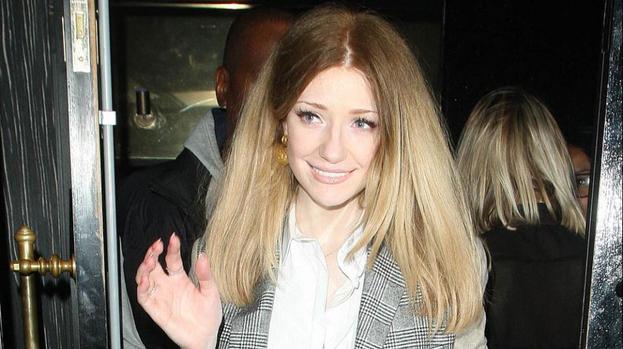 Nicola Roberts used to love writing poetry.
The Girls Aloud singer would regularly write her feelings down as a teenager in the form of short angst-ridden verse and she misses the therapeutic form of expression because it's nice to feel "confused" sometimes.
Nicola posted a series of tweets, musing: "I was just thinking i used to write so many little poems when I was younger about how I felt and stuff. Like hundreds of little paragraphs.
"And I think I've worked out that i did it because your head cant handle the feeling so you write it down?
"Then we grow up. I miss my little poems. Something nice about feeling confused. (sic)"
The 'Biology' singer has been setting her poems to music of late by dabbling in songwriting, including penning tracks on her own solo album and working with 'X Factor' winners Little Mix on their new album 'DNA'.
The stylish star has reunited with her Girls Aloud bandmates – Cheryl Cole, Kimberley Walsh, Nadine Coyle and Sarah Harding – after a three-year hiatus to celebrate their 10-year anniversary and the group are set to make a special announcement about their reunion on October 19.
Little Mix Work With Nicola Roberts On Debut LP
Little Mix have reportedly worked with Nicola Roberts on their debut album, DNA.
According to The Sun, The X Factor group co-wrote new tune Going Nowhere with the Girls Aloud singer.
It is thought that the song features rap and beat-boxing, with the tabloid adding that the Wings band and Roberts worked together to complete the track in the studio.
Source MTV UK
Nicola Roberts was at the Wireless Music Festival in London yesterday. From a tweet she wrote I assume she may have been filming something for her up and coming tv show 'Styled To Rock'.
Perez Hilton (famous blogger) bumped into her back stage and took put this on Twitter:
Team Ginge!! Me + @NicolaRoberts! Makes me feel something kinda ohhhh! ‪#London‬ ‪#Wireless
Click image to enlarge
To check out more photos from the event have a look at our gallery:
« Newer Posts
—
Older Posts »