…
Note from Admin:
Flame-haired beauty Nicola Roberts is chic in striped pencil dress as she joins sister Frankie at House of Holland bash
Small songwriters need to be paid by big music companies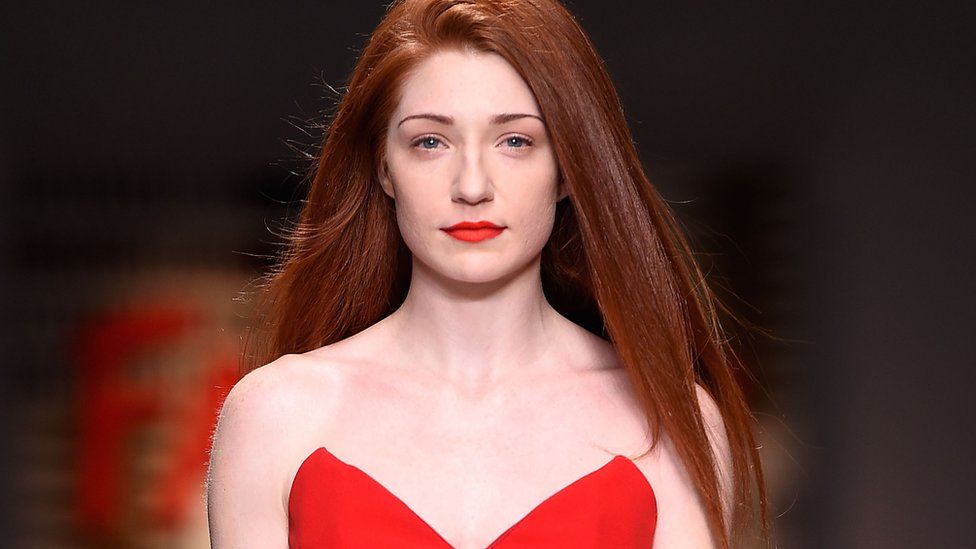 he former Girls Aloud singer made the comments when asked about Taylor Swift's recent letter to Apple.
Apple wasn't going to pay artists during their free three-month trial streaming period. But they are now.
"We have so many talented writers. Companies need to understand that smaller writers also need to be supported," she tells Newsbeat.
"Younger writers and smaller writers need to live and get by. They need to be paid. It has to be fair."
Lots of artists, including Girls Aloud, work with other writers or perform tracks other people have written for them.
In April, Newsbeat spoke to Jimmy Napes who has worked with acts like Sam Smith and Clean Bandit. He also picked up the best contemporary song award at this year's Ivor Novello Awards for his work on Rather Be.
He said it was "nice to be acknowledged" for all the hard work writers do.
Nicola says pop music is in a good place and that she's a big fan of Little Mix.
"Little Mix are hilarious. Whenever I've been in the studio with Little Mix I've had the best time ever," she says.
"I continuously say those girls need their own TV show. I'm so happy for them that their single is at number one this week and I hope their record does equally as well.
"I love them."
Nicola has done a 15 minute documentary for the BBC, see more below:
…
Ex-Girls Aloud member Nicola Roberts and Muslim style vlogger Nabiilabee explore what modest fashion is for young Muslim women who want to be fashionable and follow their faith.
Click image below to view on BBC iplayer
RED HOT GIRLS by Thomas Knights – Behind The Scenes
Edit: Have added 32 screenshots from this video to the Gallery:
Girls Aloud star Nicola Roberts is fronting a ground-breaking new calendar and exhibition by Thomas Knights, celebrating red-headed women.
The calendar features Nicola and 11 models, burlesque dancers and even a fire-eater. It will be then be followed by RED HOT Exhibitions in London, New York, Amsterdam, Sydney and Berlin, as well as an art book.
The 2014 and 2015 calendars, which featured red-headed men such as Greg Rutherford,  raised over £25,000 for anti-bullying charities and the photographer was overwhelmed by its success.
…
The 2016 calendar launch party will take place on 23 July at The Cuckoo Club and has already been billed as "the biggest ginger party the world has ever seen".
Hey guys.. Follow the link below and get your own

@jeans_for_genes

tee.. Help support

@jeansforgenes by purchasing and posting yours too.. A very important charity.. http://jeansforgenes.org/shop x
Nicola let us know a while back she was taking part in a photoshoot for something called Red Hot 100. The photos are taken my Thomas Knights and it's for calendars featuring only red heads. Nicola has posed for the female version and here is a picture from that shoot 2 weeks ago:
@lilcola for the @redhot100 2016 girls calendar by @thomasknights. World launch party – London 23rd July – Save The Date !!! 🔥
Tweet and Picture credit redhot100 on Twitter.
…
Today Nicola posted a brand new short video of her advertising Red Hot 100:
Amazing, right?! Let us know what you think, by sharing and adding your comments at the bottom of this post.
She is definitely Aloud: Nicola Roberts rocks sexy yet demure goth in velvet top with plunging cleavage at museum launch
Hi folks!
I've been busy updating our gallery with pics of Nicola from Instagram and Twitter. Keep an eye on the gallery as I update it regularly.
Click image to go to 'Last Uploads' on gallery:
Older Posts »